Higher Ed Climate Action: Listening Session IV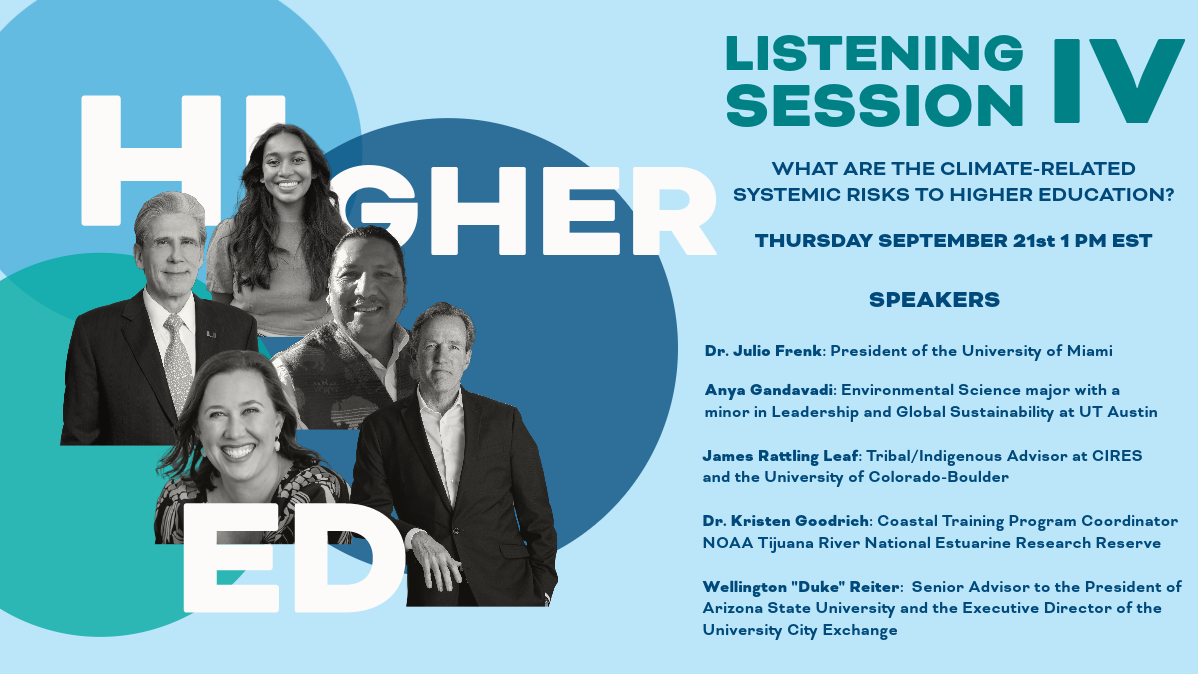 Thursday, September 21st at 1 PM ET

The fourth listening session will look at a broad range of climate challenges facing higher education such as intersections with student enrollment, student success, and student mental health.


Speakers

President Julio Frenk
Julio Frenk has been president of the University of Miami since August 2015. He also holds academic appointments as Professor of Public Health Sciences at the Leonard M. Miller School of Medicine, as Professor of Health Sector Management and Policy at the Miami Herbert Business School, as Professor of Sociology at the College of Arts and Sciences, and as Professor of Health Studies at the School of Nursing and Health Studies. He serves on the boards of the United Nations Foundation and the Robert Wood Johnson Foundation and has chaired the board of the Institute for Health Metrics and Evaluation since its founding in 2007. He was the founding director-general of the National Institute of Public Health in Mexico, one of the leading institutions of its kind in the developing world. He also served as executive director in charge of Evidence and Information for Policy at the World Health Organization and as senior fellow in the global health program of the Bill & Melinda Gates Foundation. Dr. Frenk has also been involved in various initiatives to reform higher education.
Anya Gandavadi
Anya Gandavadi (she/her) is a Junior Environmental Science major with a minor in Leadership and Global Sustainability. She is interested in studying what a just and equitable global energy and resource transition can look like. She also dedicates her time to environmental justice and GHG emissions mitigation efforts on campus, where she focuses on human experiences with the natural environment and storytelling.
James Rattling Leaf
James Rattling Leaf is a Tribal/Indigenous Advisor at the Cooperative Institute for Research Environmental Sciences, University of Colorado-Boulder as well as Co-Principal Investigator, North Central Climate Adaptation Science Center and at the Environmental Science Data Innovation and Inclusion Lab. He specializes in developing programs that utilize the interface between Indigenous People's Traditional Knowledge and Western Science He has over 25 years' working with the US Federal Government, Higher Education Institutions and Non-Profits to develop and maintain effective working relationships with federally and non-federally recognized American Indian tribes, Tribal College and Universities and Tribal Communities. He sees a greater vision of human knowledge that incorporates the many insights of human cultures and provides a context for our better understanding of the planet and the world.
Dr. Kristen Goodrich
Dr. Kristen Goodrich serves as the Coastal Training Program Coordinator at the National Oceanic and Atmospheric Administration's Tijuana River National Estuarine Research Reserve. There, she provides training and technical assistance to decision-makers in southern and Baja California in social science and community-based approaches that emphasize collaboration in coastal management. Dr. Goodrich is also a co-Principal Investigator of the Adaptive Mind Project that is developing psycho-social support infrastructure for a rapidly, continually, and often traumatically and profoundly changing world. Her work at the U.S. Environmental Protection Agency and currently in the U.S.-Mexico border region has provided her with a unique perspective on the challenges of - and opportunity for - boundary spanning, grounds her research on the human dimensions of climate change resilience, and inspired her to pursue education and training in multicultural community counseling. Dr. Goodrich holds a B.A. in Psychology and Marine Affairs & Policy from the University of Miami, M.A. in Marine Affairs & Policy from the University of Miami's Rosenstiel School of Marine and Atmospheric Science, and Ph.D. in Social Ecology from the University of California Irvine. She's faculty for an interdisciplinary Master's program in Engineering, Sustainability, and Health at the University of San Diego, a Research Affiliate with UC Irvine's Blum Center for Poverty Alleviation, and a Switzer Fellow.

Wellington "Duke" Reiter

Wellington "Duke" Reiter, FAIA, is the Senior Advisor to the President of Arizona State University and the Executive Director of the University City Exchange, a unit dedicated to the establishment of mutually beneficial relationships between the university and surrounding municipalities (Phoenix, Mesa, Scottsdale) and other American cities (Los Angeles). His office is also directing the Rio Reimagined project. In keeping with the New American University concept, he established Ten Across (10X), a nationally recognized initiative addressing the major issues of our time as they are revealed along the I-10 corridor. Reiter is the recipient of the Arizona Architect's medal and is a Fellow of the American Institute of Architects and a national Trustee of the Urban Land Institute (ULI). He currently co-chairs the University Development and Innovation Council for ULI which is dedicated to merging university and city interests. Reiter is the former Dean of the College of Design at Arizona State University, the past President of the School of the Art Institute of Chicago, and a long-time faculty member in the MIT in the Department of Architecture.


The Higher Ed Climate Action Task Force aims to accelerate higher education's already impressive progress on climate, create an overarching framework for the role of higher education in advancing solutions, and identify policies to scale climate action. The Task Force, co-chaired by Commissioner of Higher Education for Louisiana, Dr. Kim Hunter Reed and President of AASCU, Dr. Mildred García, includes a diverse group of leaders from across the higher education and climate fields.
Over the next year, the Higher Ed Climate Action Task Force will host a virtual listening tour to better understand the work currently occurring and the opportunity to scale action across the sector. The task force will then draft an action plan grounded in what is learned from these sessions with recommendations for institutions, systems, and policymakers.