Community Engagement is Necessary to Decarbonize Schools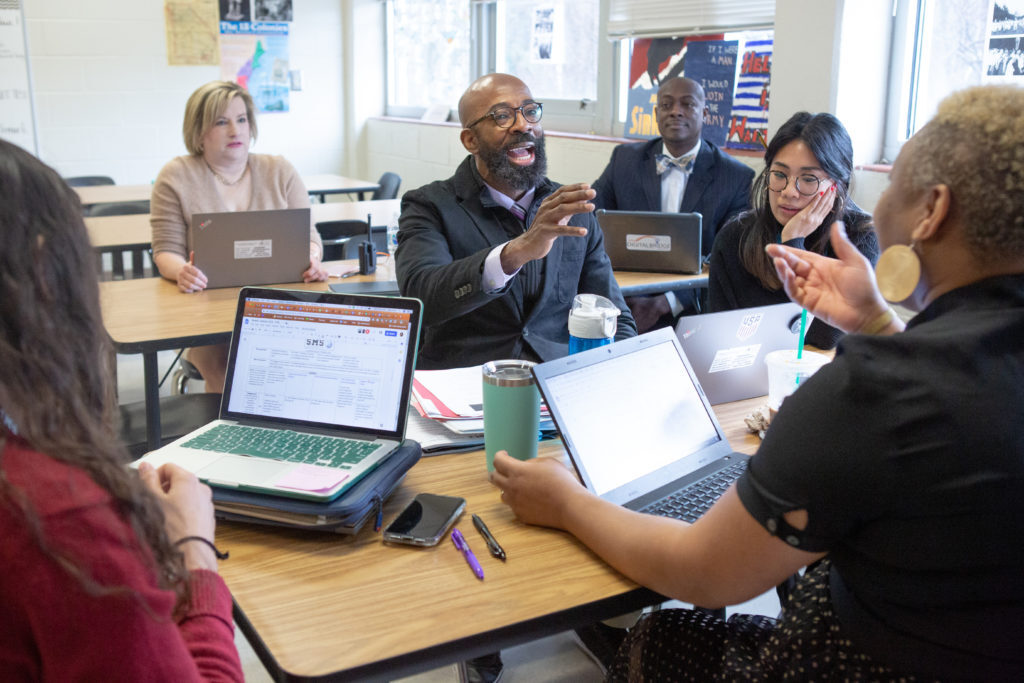 As climate change has become a more pressing and visible issue over the past decade, one thing we have learned is that we have the solutions available. What we need is to bring people along, to listen, and to involve all stakeholders in finding the solutions that work for all of us. This is certainly true in school systems, which are deeply rooted in communities and are charged with preparing today's students for the future.
Communities around the country - often led by youth and parent activists - have been advocating for schools, communities, and governments to take action on climate change. One way schools can address climate change is to reduce their carbon footprints by transitioning to clean energy.
In Maryland, the Prince George's County Public Schools (PGCPS) board of education took the important step of adopting a 100% clean energy resolution in March 2021. PGCPS, which represents a majority-minority county that borders the nation's capital and one of the 20th largest school systems in the nation, is just one of a growing number of districts making such commitments. The school board resolution, which was passed unanimously, had two main points:
That an action plan be developed to make PGCPS meet the goals of 100% electricity from clean energy by 2030, zero food waste by 2030, and phasing out fossil fuel use in buildings and buses by 2040;

That a diverse workgroup meet over the next several months to develop that plan.
This effort was a long time coming and was informed by student and community activism. Chispa Maryland had been spending years organizing the Latinx community to call on PGCPS to phase out fossil fuel buses. Just prior to the pandemic, the Sierra Club Climate Parents Campaign began to advocate for 100% clean energy buildings. Students at several schools, in particular through a Sunrise Hub, had also begun advocating for change. These groups, as well as other community members and students, began to coalesce online to push for change during 2020 and into 2021. Additionally, Board of Education members and the district's Capital Projects leadership were both researching net zero energy (NZE) new school construction methods.
One of the important decisions our workgroup made early was to put the technical discussions at the back end and start up front with the communities that often get neglected in planning.
—Pamela Boozer-Strother and Joseph Jakuta
Passing the resolution was the culmination of these efforts, but represents only a first step in decarbonizing our schools. After passing a 100% clean energy resolution, schools, students, and community members must continue working together to create a plan for successful implementation. In partnership with PGCPS CEO Dr. Monica Goldson, state and county elected officials, PGCPS staff, labor partners, environmental and justice advocates, students, teachers, and administrators are meeting regularly to put together the plan to kickstart decarbonization. They are doing this in tandem with another workgroup developing a Climate Action Plan for the rest of the Prince George's County government to decarbonize.

One of the important decisions our workgroup made early was to put the technical discussions at the back end and start up front with the communities that often get neglected in planning.
We held a panel of environmental justice advocates in order to better understand how our diverse community will be affected by these changes and how best to communicate with them.

We held a panel of labor partners to see how they would be affected and how the plan can lessen the burden, increase training, and be built with their input.

We discussed with elected officials how state and county legislation impacts climate planning for our schools and how we can affect it.

We discussed how to impact education of the climate in our curriculum, both in terms of STEM education and through our Career Technological Education (CTE) program.

We listened to students at a student-led forum who shared their concerns for the future to make sure the plan meets their needs.
Conducting our planning on a slight delay from the County government is also proving to be a beneficial approach. For one, it allows us to see the priority areas our County Council will be undertaking to make sure that the pieces we are adding to the planning puzzle fit well. Secondly, the County Climate Action Plan was designed in a similar fashion to the approach that the PGCPS workgroup was exploring of clear blueprints for action. This is because of the design approach of their consultants, Cadmus Group and the Environmental Finance Center. Both organizations supported taking the approach of creating clear blueprints to outline to governmental officials how to achieve a particular environmental goal and is similar to how the Environmental Finance Center has approached outlining actions for officials at the municipal level
In Prince George's County we now have a growing base of community support calling for climate action in schools, we have opened lines of communication between numerous impacted parties and disadvantaged communities, we have a design to create clear paths for implementation, and of course we have the technological solutions that are coming down in price to solve the problem. For the children's sake, we need to put this all together and achieve clean energy schools - and we hope more districts will join us in this effort.