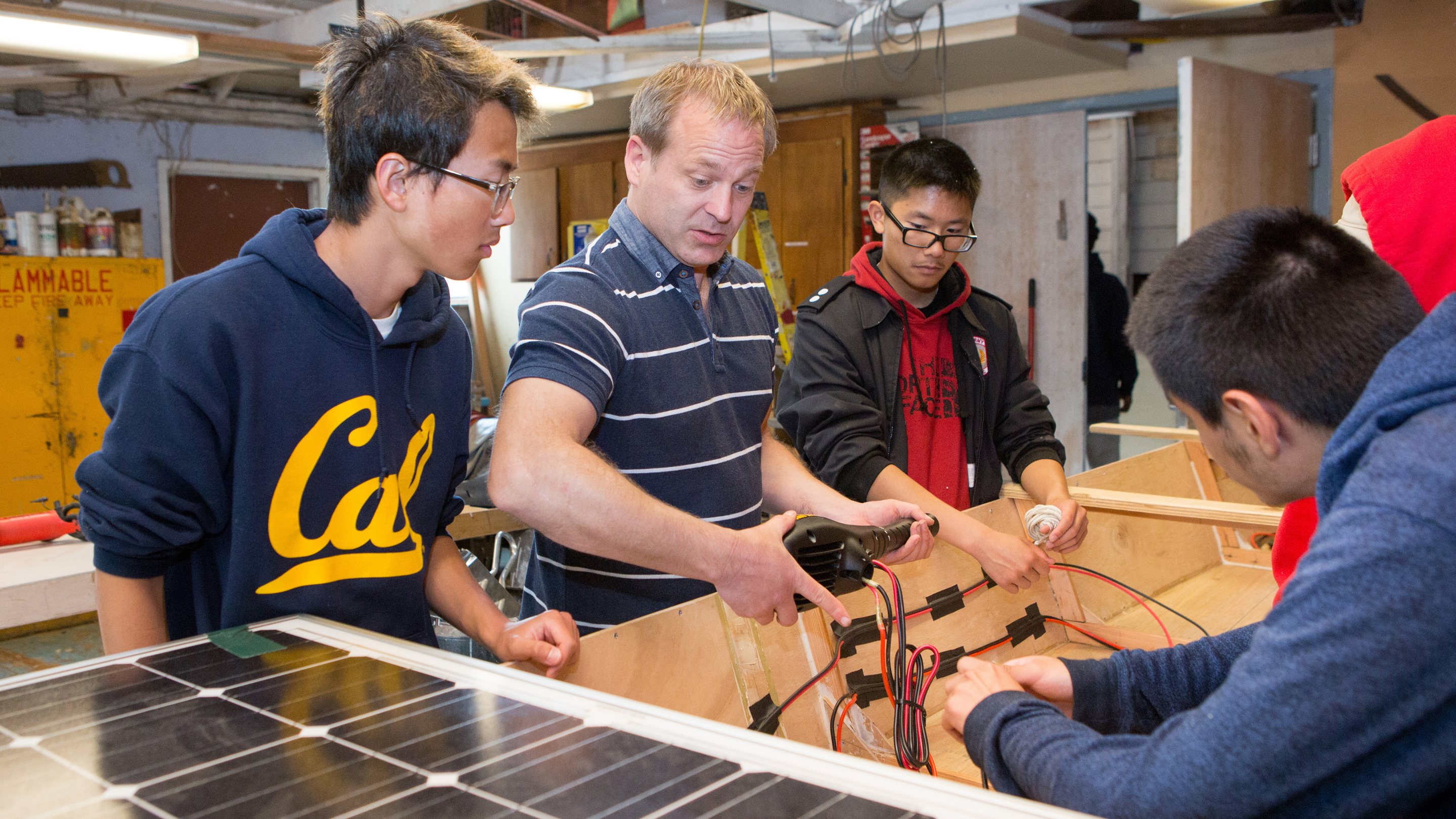 Higher Ed Climate Action seeks to unlock the full potential of higher education as a force for climate action, solutions, and environmental justice.
Building upon on work with the early years and K-12 sectors, Higher Ed Climate Action will accelerate higher education's already impressive progress on climate action, create an overarching framework for its unique role, and identify policies to scale climate action across the sector.
The Higher Ed Climate Action Task Force, co-chaired by Commissioner of Higher Education for Louisiana, Dr. Kim Hunter Reed, and President of the American Association of State Colleges and Universities (AASCU), Dr. Mildred García, will hold a series of public listening sessions over the next year and draft an Action Plan outlining a comprehensive framework for the sector.

We are grateful for the advice, input, and partnership from Second Nature and the Center for Native American Youth as we build and shape Higher Ed Climate Action.
Read the Full Press Release Here
Higher Ed Climate Action Task Force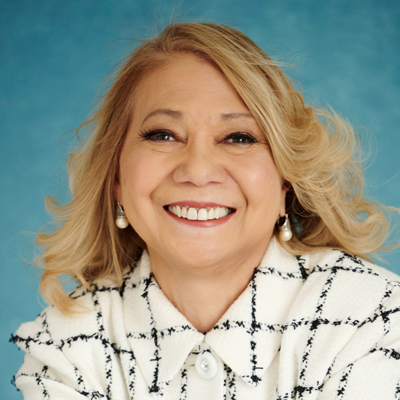 Millie Garcia (Co-Chair)
Chancellor of the California State University system
Millie Garcia (Co-Chair)
Chancellor of the California State University system
Dr. Mildred García assumed the presidency of the American Association of State Colleges and Universities (AASCU) on January 22, 2018. As AASCU's president, Dr. García is an advocate for public higher education at the national level, working to influence federal policy and regulations on behalf of nearly 400 member colleges and universities; serving as a resource to presidents and chancellors as they address state policy and emerging campus issues; developing collaborative partnerships and initiatives that advance public higher education; directing a strategic agenda that focuses on public college and university leadership for the 21st century; and providing professional development opportunities for presidents, chancellors, and their spouses. She is the first Latina to lead one of the six presidentially based higher education associations in Washington, D.C.
Prior to joining AASCU, Dr. García served as the president of California State University, Fullerton, the fourth largest university in the state, serving nearly 39,000 students and with an operating budget of almost half a billion dollars. During her tenure as president, the University improved its six-year graduation rate by 20% and significantly dropped its achievement gap between underrepresented students and their campus peers. Under her leadership, the institution was number one in California and fifth in the nation in awarding bachelor's degrees to Hispanics, as well as fifth in the nation in graduating students of color.
In addition, Dr. García previously served as president of CSU Dominguez Hills where upon her appointment she became the first Latina president in the largest system of public higher education in the country. She eliminated a structural deficit of $2.8 million; increased media placement by 192%; received the highest accreditation from the Western Association of Schools and Colleges; exceeded enrollment targets not met for eight years; increased donor giving by 140%; and increased retention rates for first-time full-time freshmen by 10%.
Prior to her arrival in the CSU, President García served as the CEO of Berkeley College, a for-profit institution, where she was the first system-wide president for all six campuses. In her six-year tenure, she increased enrollment by 25%; established professional advisory boards for academic programs; implemented the institution's first system-wide strategic planning process; and purchased property and opened a new campus in Newark, New Jersey, as well as a residence hall in White Plains, New York.
She has held both academic and senior-level positions at Arizona State University; Montclair State University; Pennsylvania State University; Teachers College, Columbia University; and the Hostos, LaGuardia, and City Colleges of the City University of New York. Dr. García is also a much sought-after speaker at national and international conferences and has published extensively in academic journals and contributed to multiple books related to student success, leadership, diversity, equity and inclusion.
Her most recent publications are featured in Latinx/a/os in Higher Education: Exploring Identity, Pathways, and Success (NASPA, 2018) and Leading Colleges and Universities (Johns Hopkins University Press, 2018).
A recipient of myriad honors and awards—from Hispanic Business Magazine's 100 Most Influential Hispanics in 2007 to The Washingtonian's Most Influential People in Washington in 2021—Dr. García was appointed by President Barack Obama to serve on the President's Advisory Commission on Educational Excellence for Hispanics, the U.S. Secretary of Defense to serve on Air University's Board of Visitors, and the U.S. Secretary of Education to serve on the Committee on Measures of Student Success. She presently sits on the boards of ETS, National Center for Higher Education Management Systems (NCHEMS), and American Academic Leadership Institute (AALI). In addition, she served as the co-chair for the Bill and Melinda Gates Foundation's Postsecondary Value Commission.
A first-generation college student, Dr. García earned a Doctor of Education and an M.A. in Higher Education Administration from Teachers College, Columbia University; an M.A. in Business Education/Higher Education from New York University; a B.S. in Business Education from Baruch College, City University of New York; and an A.A.S. from New York City Community College.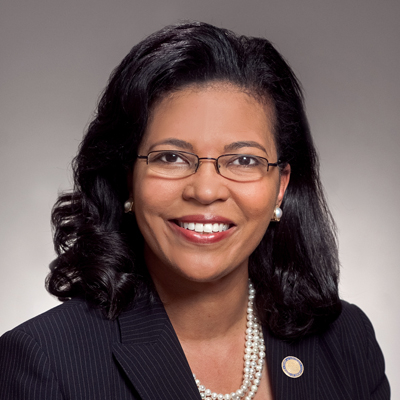 Kim Hunter Reed (Co-Chair)
Commissioner of Higher Education, Louisiana
Kim Hunter Reed (Co-Chair)
Commissioner of Higher Education, Louisiana
Kim Hunter Reed, Ph.D., is Louisiana's Commissioner of Higher Education. She is the only female in the country currently serving as a state higher education leader who has led higher education in more than one state. She was recognized nationally as the 2020 Exceptional Leader by the State Higher Education Executive Officers Association (SHEEO). In 2022, she successfully led efforts to secure additional state funding of more than $150 million, the most significant strategic investment in Louisiana higher education to date.
Working with the Louisiana Board of Regents, Reed leads the state's talent development efforts, focused on increasing educational attainment, erasing equity gaps, and increasing prosperity. To reach the state's goal of doubling the annual number of credentials awarded by 2030, she focuses on transformational policies and deep collaborative engagement in line with the Regents' talent imperative.
In support of that vision, Louisiana's institutions are focused on strengthening the state's education-to-employment pipeline, accelerating student success, reskilling and training those seeking new career opportunities, finding solutions through research and discovery, and contributing significantly to the state's post-pandemic economic recovery.
In January 2023, Reed was named to the 10 Top 10 Black higher education leaders by Forbes, saying "Louisiana's top higher ed exec is unrivaled, the absolute best among state-level leaders."
In 2022, Governor John Bel Edwards named her as Chair of the Louisiana Cybersecurity Commission, which works to advance the State's cyber ecosystem and position Louisiana as a national leader and preferred location for cyber business, education, and research.
Reed is a nationally recognized student advocate with extensive higher education and government experience. In addition to leading the Colorado Department of Higher Education, she served in President Barack Obama's administration as deputy undersecretary at the U.S. Department of Education. She led the White House Initiative on Historically Black Colleges and Universities. Collectively, Reed has served in various senior leadership roles with four governors.
A Lake Charles native, Reed chaired Gov. John Bel Edwards' higher education transition team in 2015 and served as the state's policy director. She also served as Chief of Staff and Deputy Commissioner for Public Affairs for the Louisiana Board of Regents, as well as an adjunct faculty member and Executive Vice President at the University of Louisiana System.
Reed received a doctorate in public policy from Southern University, a master's degree in public administration, and a bachelor's degree in broadcast journalism from Louisiana State University.
She is a wife, proud volleyball mom to her favorite Millsaps College student, and Louisiana's chief advocate for talent development.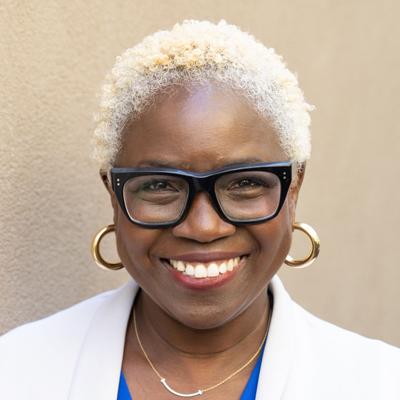 Lande Ajose
Managing Director and Chief of Staff, Waverley Street Foundation
Lande Ajose
Managing Director and Chief of Staff, Waverley Street Foundation
Lande Ajose is an accomplished public policy leader who has worked relentlessly to improve lives in her home state of California. She is now taking that purpose global in her leadership role at Waverley Street Foundation as its Managing Director and Chief of Staff.
Lande previously served as vice president, Walter and Esther Hewlett Chair in Understanding California's Future, and senior fellow at the Public Policy Institute of California, shaping the Institute's work on the most pressing issues facing the state. A nationally recognized higher education expert, she formerly served as a senior policy advisor for California Governor Gavin Newsom where she helped to advance several special projects during the pandemic. Before joining the Newsom administration, Lande was executive director of California Competes, chaired the California Student Aid Commission, and served on the governance bodies of the Institute for Higher Education Policy, the Institute for College Access and Success, and the Western Association of Schools and Colleges.
Lande currently sits on the Board of Trustees at Occidental College and on the PPIC Higher Education Center Advisory Council. She holds a PhD in urban and regional studies from the Massachusetts Institute of Technology (MIT).

Paul Cherukuri
Vice President for Innovation, Rice University
Paul Cherukuri
Vice President for Innovation, Rice University
Dr. Paul Cherukuri is Rice University's first vice president for innovation. As the chief innovation officer, Cherukuri leads Rice's technology and commercialization infrastructure to translate breakthrough discoveries into inventions for societal benefit. The primary areas of focus for the Office of Innovation are technology translation, startup creation, commercialization and entrepreneurship training. The role also oversees Rice's programs in and engagement with the Ion.
Cherukuri is a physicist, chemist and med-tech entrepreneur with over 15 years of experience in academia and the pharmaceutical industry. He earned his bachelor's degree in physics from the University of Kentucky and his Ph.D. in physical chemistry under Nobel laureate Richard Smalley at Rice.
Before returning to Rice in 2014, Cherukuri was a visiting scholar with Harvard University chemistry Professor George Whitesides and a member of the Department of Experimental Therapeutics faculty at the University of Texas MD Anderson Cancer Center. He was also co-founder and chief technical officer of MAReNIR Technologies LLC and a senior scientist at Sanofi, where he developed drug products and biomedical devices.
Prior to being named vice president of innovation, Paul was executive director of the Institute of Biosciences and Bioengineering. During his six-year tenure in the role, Cherukuri engaged with faculty to develop interdisciplinary translational research partnerships with federal and corporate agencies, garnering nearly $37 million in funding aimed at accelerating the development of new technologies into commercializable products.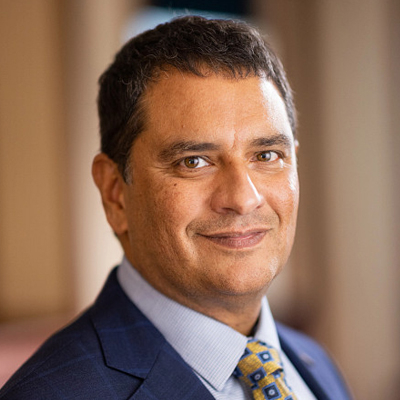 Jose Luis Cruz Rivera
President, Northern Arizona University
Jose Luis Cruz Rivera
President, Northern Arizona University
José Luis Cruz Rivera is the 17th President of Northern Arizona University (NAU). Since beginning his tenure in June 2021, he has worked to create a bold vision for a New NAU focused on the delivery of equitable postsecondary value. This is articulated in the university's strategic roadmap, NAU 2025 – Elevating Excellence, as well as several bold initiatives, including Access2Excellence, the Admissions Pilot, the Arizona Attainment Alliance (A++), the New NAU Workplace, the approval of the new Faculty Senate Constitution, an institutional Commitment to Sustainability, and the Seven Generations Signature Initiatives, among others.
Before joining NAU in 2021, Dr. Cruz Rivera served as President of Lehman College of The City University of New York (CUNY) and as Executive Vice Chancellor and University Provost of the 25-campus system. He has also served as provost of California State University, Fullerton, vice president of Higher Education Policy and Practice at The Education Trust in Washington, D.C., and Chief Student Affairs Officer for the University of Puerto Rico system.
A leading national advocate for policies to expand opportunities and improve educational outcomes for all students—especially those who have historically been underserved—Cruz Rivera is a frequent keynote speaker and writer on higher education issues and serves on several regional and national boards of organizations that work to advance equitable educational policies and practices. He earned his bachelor's degree in electrical engineering from the University of Puerto Rico and his master's and doctorate degrees from the Georgia Institute of Technology.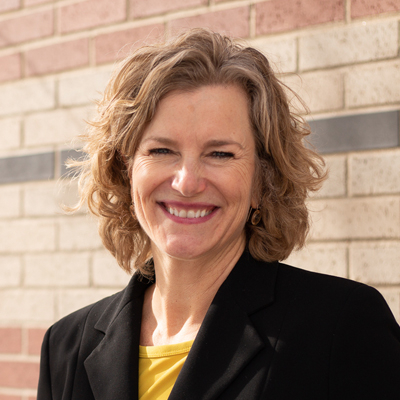 Carrie Besnette Hauser
President and CEO, Colorado Mountain College
Carrie Besnette Hauser
President and CEO, Colorado Mountain College
Since 2013, Dr. Carrie Besnette Hauser has served as president and CEO of Colorado Mountain College, a uniquely-financed, dual mission, public, Hispanic Serving Institution enrolling over 15,000 students annually at 11 campuses in the central Rocky Mountains. Previous to CMC, Hauser held leadership roles at the Kauffman Foundation, Metropolitan State University of Denver and the Daniels Fund. While at Daniels, she was a loaned executive advising Denver's mayor on a citywide college scholarship program and assisting the Metro Denver Sports Commission on an initiative to attract top-tier sporting events, including the Olympic Games. She co-chaired the 2012 Women's Final Four, held at Denver's Pepsi Center.
Hauser is currently chair of the Colorado Parks & Wildlife Commission and a member of the Vail Valley Foundation and American Council on Education boards of directors. She serves on the El Pomar Foundation's Northwest Regional Council and is past president of the National Scholarship Providers Association.
Hauser's prior board service includes Great Outdoors Colorado, American Rivers, Kansas City Federal Reserve Bank Economic Advisory Council, Glenwood Springs Chamber Resort Association, Vail Valley Partnership, Denver Metro Chamber of Commerce and its Leadership Foundation, Metro Denver Economic Development Corporation, Metro Denver Sports Commission, American Red Cross Mile High Chapter and Visit Denver. Previous gubernatorial appointments were to the Colorado Women's Centennial Vote Commission, Colorado's Blue Ribbon Commission on Health Care Reform and the Colorado Commission on Higher Education. She has been recognized as the 9News Leader of the Year and one of the Fifty for the Future of Colorado.
Hauser's background includes teaching assignments at UCLA, the University of Denver and Colorado State University. She has held research and legislative staff roles as well as positions with the Western Interstate Commission for Higher Education and the University of Arizona, her undergraduate alma mater. She earned her master's and Ph.D. degrees from UCLA and completed the Advanced Management Program at the Wharton School of Business.
An avid outdoorswoman, Hauser has climbed to the Mount Everest base camp and has summited Mount Kilimanjaro, Mount Rainier, and Colorado's 58 highest peaks (14ers). She held the proud title of "Swamper'' while working many summers for Hatch River Expeditions in Grand Canyon National Park near her beloved hometown of Flagstaff, Arizona. She and her husband enjoy skiing, hiking, boating, biking and exploring the Rocky Mountain West and remote places around the world.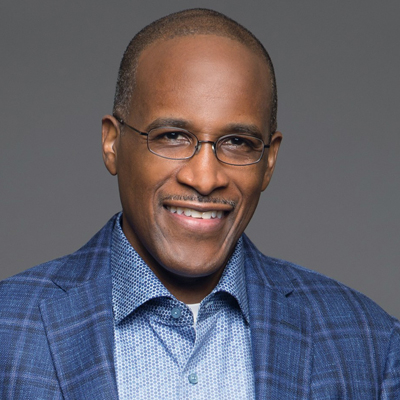 Walter Kimbrough
Past president, Dillard University and Philander Smith College
Walter Kimbrough
Past president, Dillard University and Philander Smith College
A native of Atlanta, Dr. Walter M. Kimbrough was his high school salutatorian and student body president in 1985 and went on to earn degrees from the University of Georgia, Miami University in Ohio, and a doctorate in higher education from Georgia State University. He has enjoyed a fulfilling career in student affairs, serving at Emory University, Georgia State University, Old Dominion University, and Albany State University. In October of 2004, at the age of 37, he was named the 12th president of Philander Smith College. In 2012 he became the 7th president of Dillard University in New Orleans, Louisiana, and served for ten years.
Recently, Kimbrough served as the interim executive director of the Black Men's Research Institute at Morehouse College. He was also named executive in residence for the University of Southern California Race and Equity Center. In early 2022 he was appointed by President Joseph Biden to the President's Board of Advisors on HBCUs.
Kimbrough has been recognized for his research and writings on HBCUs and African American men in college. Recently he has emerged as one of the leaders discussing free speech on college campuses. Kimbrough also has been noted for his active use of social media. He was cited by Education Dive as one of 10 college presidents on Twitter who are doing it right (@HipHopPrez), and in 2015 he was named by The Best Schools.org as one of the 20 most interesting college presidents. In 2020 College Cliffs named him as one of the 50 Top U.S. College And University Presidents, and in 2021 he was named a Georgia State University Alumni of the Year award winner.
Dr. Kimbrough has forged a national reputation as an expert on fraternities and sororities, with specific expertise regarding historically Black, Latin and Asian groups. He is the author of the book, Black Greek 101: The Culture, Customs and Challenges of Black Fraternities and Sororities, and has served as an expert witness in a number of hazing cases.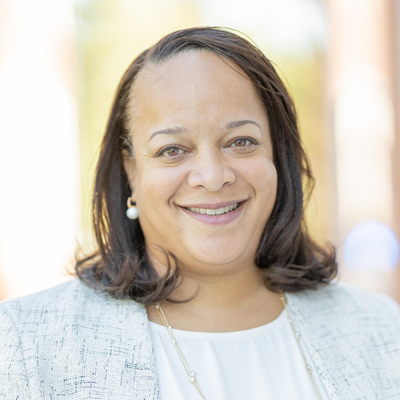 Bridget Terry Long
Dean, Harvard Graduate School of Education
Bridget Terry Long
Dean, Harvard Graduate School of Education
Bridget Terry Long, Ph.D. is Dean and Saris Professor of Education and Economics at the Harvard Graduate School of Education (HGSE). A member of the HGSE faculty since 2000, Long is an economist whose work focuses improving educational opportunity and student success. Her studies have provided evidence on the effectiveness of financial aid policies, postsecondary remedial education, and support programs on educational attainment. She has also developed and tested interventions that aim to provide students with information and assistance to support important educational activities, such as completing financial aid forms, saving for college, and persisting in higher education. Since becoming Dean of HGSE in 2018, Long has led the school through the implementation of their redesigned master's program, the pivot to remote education during AY20-21, and the introduction of a new online master's degree, along with expanding HGSE's external engagement and partnerships. She served as Academic Dean from 2013 to 2017 and was Faculty Director of the Ed.D. and Ph.D. programs from 2010 to 2013.
Long is a Research Associate of the National Bureau of Economic Research (NBER) and was elected to the National Academy of Education and the International Academy of Education. She is the Chair of Board of Directors for MDRC, a nonprofit social policy research organization, an affiliate of the Abdul Latif Jameel Poverty Action Lab (J-PAL), and a member of the Board for the Red Sox Foundation. During the Obama administration, she served as Chair of National Board for Education Sciences, the advisory panel of the Institute of Education Sciences at the U.S. Department of Education. Long has been awarded the Peter H. Rossi Award for Contributions to the Theory or Practice of Program Evaluation from APPAM, the Spencer Foundation Mentor Award, and the Robert P. Huff Golden Quill Award for excellence in research and published works on student financial assistance.
Long earned her Ph.D. and M.A. from the Harvard University Department of Economics and her A.B. from Princeton University in Economics with a Certificate in Afro-American Studies. She has testified numerous times before U.S. Senate Committees and state governmental bodies, and she was a Visiting Fellow at the Federal Reserve Bank of Boston. She has won numerous major research grants, including awards from the Bill & Melinda Gates Foundation, the U.S. Department of Education, and the National Science Foundation (NSF). Long was selected to give a Centennial Lecture as part of the 100-year anniversary of AERA and the Henry and Bryna David Lecture at the National Academy of Sciences, Division of Behavioral and Social Sciences and Education.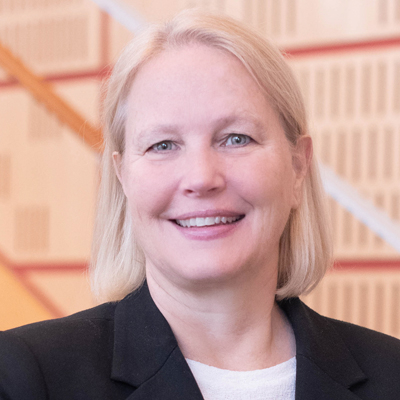 Joanie Mahoney
President, SUNY College of Environmental Science and Forestry
Joanie Mahoney
President, SUNY College of Environmental Science and Forestry
Joanie Mahoney was appointed President at the SUNY College of Environmental Science and Forestry in November, 2020.
Prior to ESF, Ms. Mahoney served as Onondaga County Executive for 11 years and oversaw all aspects of a county government, which served 460,000 residents. During her tenure as county executive, she earned national recognition for her environmentally friendly stewardship.
Before her elective office, Joanie worked as an attorney both in private practice with the Harris Beach law firm and for five years as a criminal prosecutor in the Onondaga County District Attorney's Office.
Joanie serves as chair of the New York State Thruway Authority.
Ms. Mahoney received her bachelor of science degree from Syracuse University's School of Management and her juris doctor from S.U. 's College of Law. She and her husband Marc Overdyk have 4 adult sons and live in Dewitt, NY.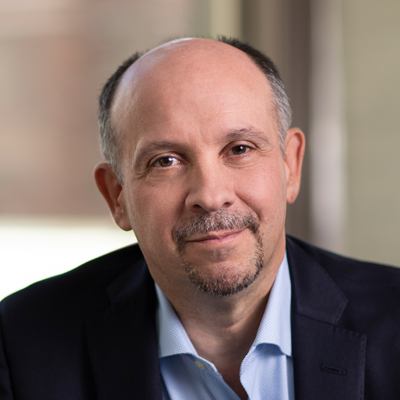 Jamie Merisotis
President, Lumina Foundation
Jamie Merisotis
President, Lumina Foundation
Jamie Merisotis, an international leader in higher education, human work, philanthropy, and public policy, has been Lumina's president and CEO since 2008.
An innovator committed to increasing educational attainment in the United States, he focuses on realizing racial justice and equity through Lumina's efforts to improve and expand opportunities for higher learning for today's students. These adults increasingly are Black and brown, from low-income families, or the first in their families to go to college.
Frequently sought as a media commentator and contributor, his writing has appeared in The Washington Post, The New York Times, The Wall Street Journal, National Journal, Stanford Social Innovation Review, Washington Monthly, Politico, The Hill, Roll Call, and other publications.
Merisotis is the author of America Needs Talent, named a Booklist Top 10 Business book of 2016, and Human Work in the Age of Smart Machines, an Amazon category bestseller released in 2020.
Previously, Merisotis was president of the nonpartisan D.C.-based Institute for Higher Education Policy, which he co-founded. He also was executive director of a bipartisan federal commission on college affordability.
Merisotis is a trustee and member of the governing board of The Ditchley Foundation in the United Kingdom. He also serves on the board of ACT, Inc. He is past chairman and trustee emeritus of the Council on Foundations and currently leads a task force for the organization highlighting philanthropy's ethical responsibility to the greater good. He also is a Council on Foreign Relations member.
Merisotis is a member of the Central Indiana Corporate Partnership board as well as the boards of several start-up companies that rely on artificial intelligence and machine learning to address complex challenges related to work and learning.
A distinguished graduate of Bates College, he has been awarded honorary degrees from colleges and universities worldwide.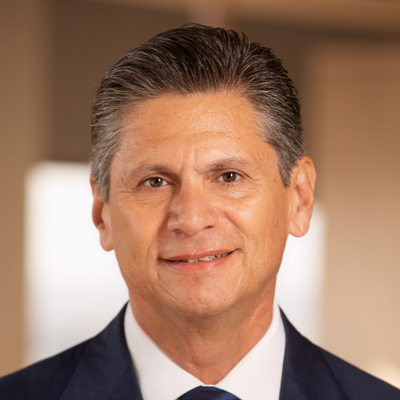 Eloy Oakley
President & CEO, College Futures Foundation
Eloy Oakley
President & CEO, College Futures Foundation
Eloy Ortiz Oakley is an American educator, leader and advisor. He is considered a leading voice on improving equity in higher education and for positioning institutions for the global shifts in the workforce and the future of learning.
Oakley was appointed President and CEO of the College Futures Foundation on August 1, 2022 where he leads California's premiere philanthropic and advocacy organization focused on improving college credential attainment for Californians of all backgrounds. Previously he served as Chancellor of the California Community Colleges for six successful years where he led the nation's largest and most diverse system of higher education. In 2021, while on a sabbatical, he served as Senior Advisor to Secretary of Education Miguel Cardona and the Biden Administration where he supported the development and communication of President Joe Biden's Build Back Better Agenda for Higher Education and the America's College Promise proposal. Under his leadership the California community colleges were positioned as a vital source for maintaining global competitiveness of the California workforce. Oakley's work included the establishment of the California College Promise, the design and implementation of the systems' strategic vision, the Vision for Success, the elimination of standardized testing, the reform of remedial education, the adoption of a student-centered funding formula, the reform of state-based financial aid for community college students and the design and launch of California's first public fully online competency-based education college.
Oakley serves on the board of MDRC, the University of California, Irvine Board of Trustees, and is a Regent Emeritus of the University of California Board of Regents. He advises various education related companies such as Guild Education, OpenClassrooms, Handshake and Certree.
For his leadership, Oakley has been recognized with the 2014 James Irvine Foundation Leadership Award, as a 2016 President Barack Obama White House Champion of Change, the 2018 Higher Education Dive President of the Year, the 2018 Roybal Foundation Medal of Courage in Education and the 2021 Diverse Champions Award.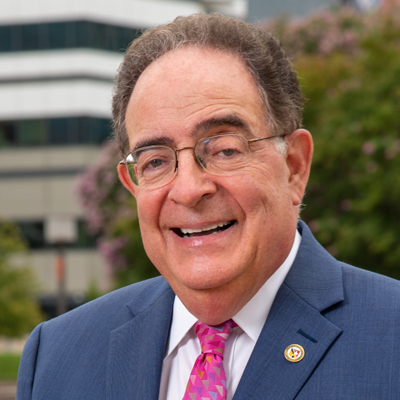 Jay Perman
Chancellor, University System of Maryland
Jay Perman
Chancellor, University System of Maryland
Jay A. Perman, MD, became the fifth chancellor of the University System of Maryland (USM) in January 2020. The USM enrolls more than 170,000 students in 12 universities and three regional higher education centers across the state, and confers nearly eight in every 10 bachelor's degrees awarded in Maryland.
As chancellor, Dr. Perman is committed to advancing higher education affordability for all students, and ensuring that every person in Maryland who wants a college education can access it. Over the last several years, the USM has grown the share of underrepresented minority students enrolled in system institutions, improved students' retention and completion rates, and boosted the amount of institutional aid awarded to students in need.
Dr. Perman is building on the USM's reputation for innovation, particularly in teaching and learning, community engagement, and research. The system's R&D enterprise has grown to eclipse $1.5 billion in extramural funding, and key technology commercialization metrics-invention disclosures, licenses, and startups-have climbed significantly.
Dr. Perman leverages the system's size and reach to support the state's top priorities in education, innovation, and workforce and economic development, and has deepened inter institutional collaboration to create new academic opportunities for students, advance interdisciplinary research, and solve the biggest, most intractable problems challenging Maryland and the nation.
Prior to his appointment as chancellor, Dr. Perman was president of the University of Maryland, Baltimore (UMB) for nearly a decade. A pediatric gastroenterologist, he still practices medicine once a week, teaching team-based health care to students in UMB's six professional schools.
Dr. Perman received his Doctor of Medicine degree with Distinction in 1972 from Northwestern University. After his residency in pediatrics at Northwestern University Children's Memorial Hospital, he completed a fellowship in pediatric gastroenterology at Harvard Medical School and at the Children's Hospital Medical Center in Boston.
Dr. Perman's career includes service on many U.S. higher education boards, including the National Association of System Heads, the Association of American Colleges and Universities, the Association of Public Land-Grant Universities, and the Southern Regional Education Board. He is a member of the Association of Governing Boards' Council of Presidents, and is active on issues involving specialized and regional accreditation, serving as chair of several Middle States review teams.
A native of Chicago, Dr. Perman and his wife, Andrea, a research nurse, have four adult children and nine grandchildren and reside in Baltimore.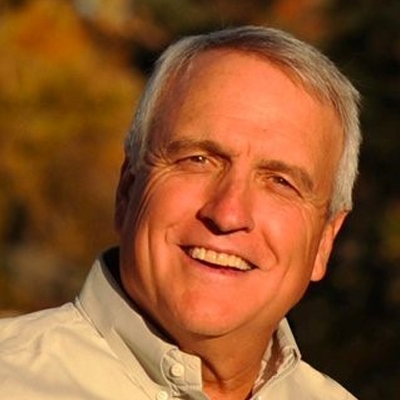 Bill Ritter
Director, Center for the New Energy Economy (CNEE) at Colorado State University; Former Governor, Colorado
Bill Ritter
Director, Center for the New Energy Economy (CNEE) at Colorado State University; Former Governor, Colorado
Bill Ritter, Jr. is the founder and director of the Center for the New Energy Economy (CNEE) at Colorado State University, which launched on February 1, 2011.
Governor Bill Ritter was elected Colorado's 41st Governor in 2006 and was the District Attorney of Denver from 1993-2005. During his four-year term as Governor, Ritter established Colorado as a national and international leader in clean energy by building a New Energy Economy. After leaving the Governor's Office, Ritter founded the Center for the New Energy Economy at Colorado State University, which works with state and federal policymakers to create clean energy policy throughout the country. Governor Ritter authored a book that was published in 2016 entitled, Powering Forward – What Everyone Should Know About America's Energy Revolution.
Governor Ritter is the current Board of Directors chair for The Climate Group North America and former chair of the Board of Directors of the Energy Foundation and currently serves on the Board of Trustees of The Nature Conservancy. Ritter is a member of Blackhorn Venture Capital and serves as an advisor to Green Alpha and Project Canary, among others. Ritter earned his bachelor's degree in political science from Colorado State University (1978) and his law degree from the University of Colorado (1981). With his wife Jeannie, he operated a food distribution and nutrition center in Zambia.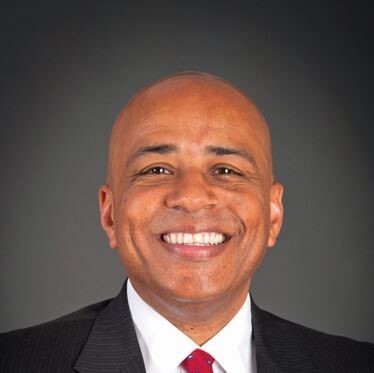 Ron Rochon
President, University of Southern Indiana
Ron Rochon
President, University of Southern Indiana
Dr. Ronald S. Rochon became the University of Southern Indiana's fourth president in July 2018, after eight years serving USI as provost.
In his first four years as president, he successfully secured over $250 million in state funding for capital projects and operations from his first two biennial budget presentations to the Indiana Legislature. He is currently seeking an additional $195 million for USI during this current budget session. Also, during this time period the university has experienced increased growth in the Indiana Commission for Higher Education's performance funding metrics of overall degree completion, at-risk degree completion, STEM degree completion, student persistence, and on-time graduation.
Under his leadership, the University has implemented its third Strategic Plan: Accelerating Impact – which includes goals for improving student success, fostering impactful engagement, elevating the visibility and reputation of the university, and strengthening its financial viability, all of which he plans to achieve through collaborative community, regional, state, national, and global initiatives. In 2021, his leadership attracted the attention of an NCAA Division I conference which led the university to reclassify from Division II to Division I athletics. He intentionally guides the university to be a catalyst for change, creating a talented, educated citizenry that meets the leadership, entrepreneurial and workforce needs of today's society.
Rochon's academic and professional career has focused on advocating for educational excellence, access, equity and equality. He has taught classes on the history of American Education, culturally relevant and responsive teaching practices within Pre-K through grade 12 schools, and organizational leadership within higher educational settings. His body of work has centered on the needs and advancement of diverse learners within underserved schools and communities as well as their integral contributions to the larger society. His commitment to student success has been his lifelong career focus. He cultivates a campus culture where faculty and staff are dedicated to creating a community of care, where students are free to develop intellectually, emotionally, socially and culturally through their educational experiences.
During his tenure as provost, Rochon oversaw the revamping of the University Core Curriculum and UNIV 101 seminar course. In addition, while working with faculty within his tenured academic college, he led the approval process of USI's second doctoral program in educational leadership. Rochon continues to work with faculty across the university to establish new opportunities and programs for undergraduate, graduate, and online learners while fostering best practices to recruit both domestic and international students to campus.
In October 2020, Dr. Rochon was appointed to Indiana Governor Eric J. Holcomb's Workforce Cabinet for a twoyear term and to the Midwest Higher Education Compact in 2021. An active civic leader, Rochon serves on the boards of WNIN Public Broadcasting, Deaconess Health Systems, and the Evansville Regional Economic Partnership, among others. In the broader higher education community, he serves on the NCAA Division I Ohio Valley Conference Board of Presidents and the American Association of Colleges and Universities (AASCU) Board of Directors. He was appointed AASCU Chair-Elect for 2023 before beginning a one-year term as Chair in 2024.
Nationally, he serves as a board director for the Community Anti-Drug Coalitions of America (CADCA) and was appointed chair for a two-year term beginning in 2023. Rochon came to USI from Buffalo State in Buffalo, New York, where he served as the inaugural dean of the School of Education, associate vice president for Teacher Education and professor. He was director and co-founder of the Research Center for Cultural Diversity and Community Renewal at the University of Wisconsin-La Crosse, as well as interim associate dean and director of the school of education. He also served as chair of the Board of the American Association of Colleges of Teacher Education (Washington, DC). His professional teaching career has included work at Texas A & M University, Washington State University, and University of Wisconsin-La Crosse.
President Rochon earned a bachelor's degree at Tuskegee University and master's and doctoral degrees from the University of Illinois at Urbana-Champaign. His doctoral work was in educational policy studies, with an emphasis in educational history and policy analysis. President Rochon and Mrs. Lynn Wade Rochon are both natives of Chicago, Illinois. They are the proud parents of two adult children.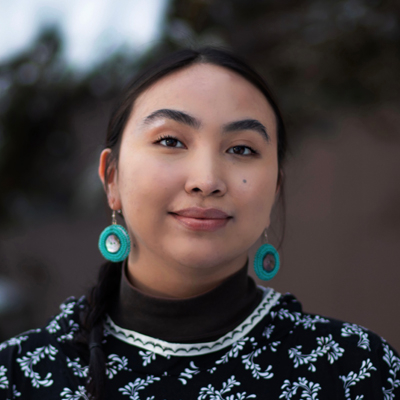 Charitie Ropati
Education and Environmental Activist, Indigenous Scientist, Arctic Youth Ambassador
Charitie Ropati
Education and Environmental Activist, Indigenous Scientist, Arctic Youth Ambassador
Charitie Ropati (Yup'ik & Samoan) is a 21 year old education and environmental activist who worked to implement an accurate and inclusive sub-curriculum of Indigenous peoples in Western pedagogy in Alaska. She also was an integral part in passing a policy at the Anchorage School District that allowed students to wear their cultural regalia during graduation. This is a policy that is still in place.
She is a researcher who studies the intersections of plant ecology, permafrost, and cultural resilience in coastal Native communities. She also works on the Co-Production of knowledge and is a member of the Earth Network at the Columbia Climate School. She is also an Arctic Youth Ambassador and Arctic Resilient Youth Communities Fellow.
She was awarded Champion for Change by the Center for Native American Youth for her work in education and she has been featured and nationally recognized for her advocacy in Teen Vogue, The Malala Fund, The Guardian and elsewhere. She has been recognized as a 2022 "In the Know" Change maker.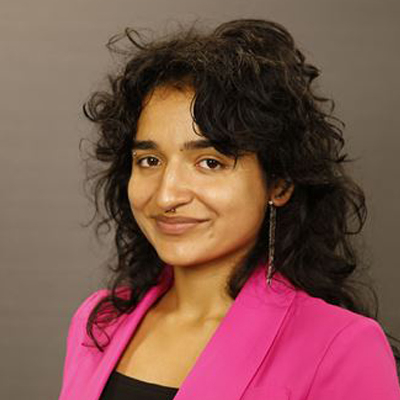 Nathalie Saladrigas
Student Activist, Miami Dade College
Nathalie Saladrigas
Student Activist, Miami Dade College
Nathalie works as a lead South Florida organizer for Florida Student Power Network where she helps students advocate for their rights and mobilize them to the state capital to lobby against harmful legislation. Furthermore, she is the founder and president of Queer Collective, the first LGBTQ club on my campus. Within this club, Nathalie, alongside her peers, helps students learn about issues pertaining to the LGBTQ community and how to make a change through political action such as canvassing and phone banking. She is also the Co-director of Civic Engagement for Meraki Youth. In Meraki, she sends opportunities to students and encourages them to engage politically. Moreover, she assists in fundraising efforts for the international volunteer program, Jóvenes Contra El Cáncer. Additionally, Nathalie is the founder of Salma Candles, a sustainable candle business that focuses on helping minorities in low-income communities learn about accessible forms of a sustainable lifestyle.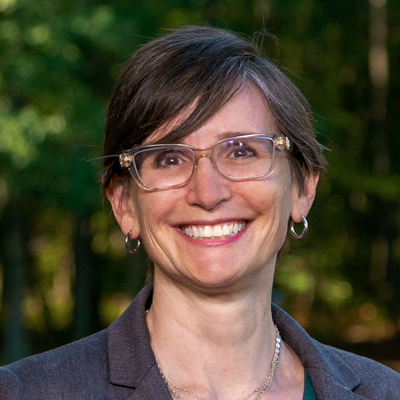 Toddi Steelman
Dean, Nicholas School of the Environment at Duke University
Toddi Steelman
Dean, Nicholas School of the Environment at Duke University
Dr. Toddi Steelman is the Stanback Dean of the Nicholas School of the Environment at Duke University. She is also the co-lead of the Duke Climate Commitment—a university-wide initiative to unite Duke's education, research, operations, and public service missions to engage the entire community in the pursuit of climate change solutions. She is best known as a wildland fire expert and has brought her expertise to bear in a variety of venues including the Royal Society (UK), National Academy of Sciences (US) and as an invited keynote speaker in Canada, Germany, Australia and the United States. She is a past-President of the International Association of Wildland Fire. Her research agenda has focused on understanding community responses to wildfire, wildland fire communication and how communities and agencies interact for more effective wildfire management on large, interjurisdictional wildfires. The author of four books, Steelman has published extensively in peer-reviewed journals, as well as opinion and editorial pieces in Nature, the Globe and Mail, The Hill and the Los Angeles Times.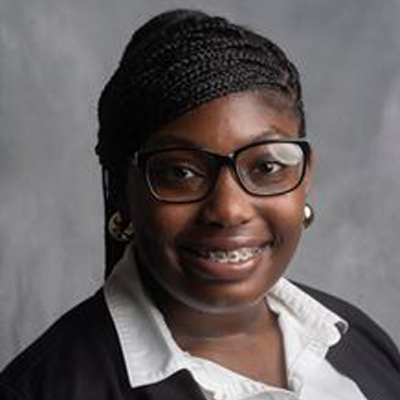 Jada Walden
Student, Southern University and A&M College
Jada Walden
Student, Southern University and A&M College
Jada Walden is a 21-year old undergraduate student of the Urban Forestry Department at Southern University and A&M College, concentrating on the management and sustainability of natural resources (primarily trees) and the environment, as well as entomology. Jada believes acquiring knowledge of all aspects can further understanding of the importance of natural resources and can help spark action in other people.
Jada has been a part of the department's Society of American Foresters Chapter over the past 3 ½ years, helping with volunteering events in the community, as well as contributing to putting together engaging events for the department for education and cohesion. These engagement events are for the department to get to know each other more as well as educate people that might be interested in joining. Currently, Jada is serving as a research lab assistant at the USDA-ARS Honey Bee Breeding, Genetics, and Physiology Research Laboratory acquiring techniques used in both the lab and field work. She is also part of the USDA- ARS efforts to recruit more HBCU students pushing for more exposure and ensuring diversity, equity, and equality.
Jada has trained to identify certain species of trees and factors that are contributing to their health status while understanding the maintenance (including protocol for IPM) that a species may need for proper health. She is also trained in doing DNA and RNA extractions and quantification for various research efforts.
Jada is a soon to be graduate of the Spring 2023 class with her bachelor's degree. She will continue her studies of natural resources in a career setting working with the Wisconsin Department of Natural Resources. There she will be doing arboricultural work and networking with professionals. In her spare time, you will find her studying to obtain her ISA Arborist Certification or being an aunt to her "children," Rayleigh (age 4) and Mekel (age 1).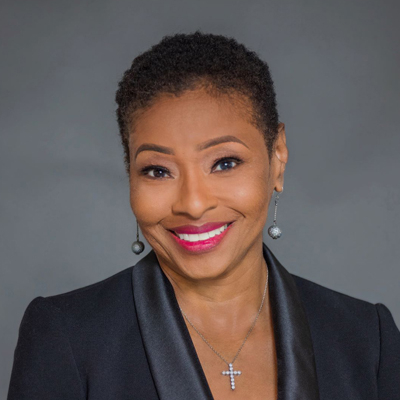 Carla Walker-Miller
Founder and CEO, Walker-Miller Energy Services
Carla Walker-Miller
Founder and CEO, Walker-Miller Energy Services
Carla Walker-Miller is the Founder and CEO of Walker-Miller Energy Services (Walker-Miller), a 22-year-old values driven, B Corp certified company that changes lives through energy. Her high performing firm's efforts in energy efficiency and clean energy help decrease the energy burdens on local families and businesses, create sustainable jobs, diversify local energy workforces, and position small business owners to become sustainable suppliers in the clean energy economy.
In 2021, she led efforts to obtain the organization's Certified B Corporation status, awarded by the nonprofit B Lab, certifying its commitment to social and environmental performance, accountability, and transparency. Walker-Miller is the first Black owned company in Michigan to obtain a B Corporation Certification, making us part of a fairly exclusive global network of about 6000 Certified B Corporations in more than 70 countries – leaders in the global movement for an inclusive, equitable and regenerative economy. In keeping with their core value of "Boldly Go", Walker-Miller received their ISO27001 and SOC II Type II certifications in late 2022.
Carla is a visionary who leads with both empathy and tenacity. Starting Walker-Miller after an 18-year corporate career in technical it has grown it into one of the largest African American and woman owned energy waste reduction companies in the country. From team member benefits and charitable giving to procurement practices, the B Corp Certification is the embodiment of Carla's leadership, asserting, "We are not just an employer, we are stewards of our diverse team."
In 2018, Carla made three transformational decisions in the life of the company: instituting a $15 an hour minimum wage – and recently increasing to $18 an hour with a commitment to continued increases until reaching $20+ an hour, resolving to only recruit team members who embrace the company's culture of kind excellence; and adopting second chance policies that give previously incarcerated citizens fair opportunities for employment.
A fierce advocate for Black people and people of color, women and historically marginalized communities, Carla operates Walker-Miller through an equity lens to drive benefits of clean energy to all. With one of the most diverse teams in the industry, Walker-Miller designs programs, sources products, trains diverse workforces, researches and develops innovations that drive broad adoption of clean energy practices and behaviors, successfully engaging communities that have not traditionally participated in energy efficiency programs.
The transition to a new low carbon reality is happening right now, and Walker-Miller is positioning historically excluded communities to fully participate in the benefits of this transformation. This participation includes clean energy jobs, new business creation, and investments in healthier indoor and outdoor spaces. Equity absolutely must be at the center of our efforts.
Carla is a highly sought-after speaker and respected thought leader on entrepreneurship, diversity, equity and inclusion, clean energy, and workforce development to name a few. An alumnus of the 2014 Detroit Inaugural Goldman Sachs 10,000 Small Businesses Program (GS10KSB), Carla has twice shared the stage with Warren Buffet, representing GS10KSB alumni nationally. Her work has been highlighted by Black Enterprise, Essence Magazine, The Michigan Chronicle, Forbes, FORTUNE, Inc., MSNBC, CNBC, The Edison Electric Institute (EEI) Energy Perspectives and several other media outlets.

Daniel Wildcat
Professor, Haskell Indian Nations University
Daniel Wildcat
Professor, Haskell Indian Nations University
Daniel R. Wildcat is a Yuchi member of the Muscogee Nation of Oklahoma. He is an Indigenous scholar, writer, and professor at Haskell Indian Nations University. In 2013 he was the Gordon Russell visiting professor of Native American Studies at Dartmouth College. Dr. Wildcat received an interdisciplinary Ph.D. from the University of Missouri at Kansas City. He is a noted speaker on Traditional Ecological Knowledges. He is currently the Principal Investigator for the Rising Voices, Changing Coasts Hub at Haskell. He is the author and editor of several books: Power and Place: Indian Education In America, with Vine Deloria, Jr.; Destroying Dogma: Vine Deloria's Legacy on Intellectual America, with Steve Pavlik. His book, Red Alert: Saving the Planet with Indigenous Knowledge, suggests Indigenous ingenuity - Indigenuity – is required to reduce the environmental damage of the age of the Anthropocene. He is a co-author of the Southern Great Plains chapter of the Fourth National Climate Assessment.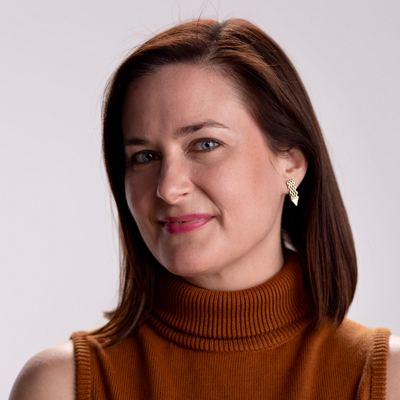 Katharine Wilkinson
Co-Founder & Executive Director, The All We Can Save Project
Katharine Wilkinson
Co-Founder & Executive Director, The All We Can Save Project
Dr. Katharine Wilkinson is an author, strategist, teacher, and one of 15 "women who will save the world," according to Time magazine. She is co-founder and executive director of The All We Can Save Project and co-host of the podcast A Matter of Degrees. Her books on climate include the bestselling anthology All We Can Save, The Drawdown Review, the New York Times bestseller Drawdown, and Between God & Green. Previously, Dr. Wilkinson was the principal writer and editor-in-chief at Project Drawdown. She speaks widely, including a popular TED Talk on climate and gender equality with more than 2 million views. A former Rhodes Scholar and frequent visiting professor, Dr. Wilkinson holds a doctorate in geography and environment from Oxford.
Dan Porterfield (Honorary Member)
President, Aspen Institute
Dan Porterfield (Honorary Member)
President, Aspen Institute
Daniel R. Porterfield is President and CEO of the Aspen Institute, a global nonprofit organization committed to realizing a free, just, and equitable society. He has been recognized as a visionary strategist, transformational leader, devoted educator, and passionate advocate for justice and opportunity.
At the Aspen Institute, Porterfield has worked to build upon the organization's legacy of societal influence and commitment to human dignity while positioning it for a future where it can make its most profound and lasting impacts.
In recent years, the Institute has launched new initiatives focused on criminal justice reform, science and society, economic inclusion, grassroots and community leadership, and more. In the Roaring Fork Valley of Colorado, where the Institute was founded and where it maintains its Aspen Meadows campus, it has broadened its partnerships with the local community through the Hurst Community Initiative and deepened its connection with its aesthetic and cultural heritage through the creation of a $20 million educational facility and creativity corridor celebrating the works of Bauhaus master Herbert Bayer, one of the founders of the Aspen Institute.
To respond to one of the most urgent challenges of our time, the Institute created the Aspen Partnership for an Inclusive Economy (APIE) in 2019 with a founding partner, the Mastercard Center for Inclusive Growth, and a $26 million multi-year commitment from Mastercard. Through APIE, the Institute is bringing together its networks and programs with a diverse range of public, private, and nonprofit leaders to help reconstruct our global economy so that it drives greater security, opportunity, and resilience for all.
Prior to leading the Aspen Institute, Porterfield served for seven years as the President of Franklin & Marshall College, a national liberal arts college founded by Benjamin Franklin in 1787. Under his leadership, Franklin & Marshall set records for applications, fundraising, and fellowships; developed cutting edge new centers for student wellness, career services, and faculty excellence; and constructed a new athletics stadium and visual arts center.
Porterfield led Franklin & Marshall in the development of the Next Generation Initiative talent strategy, through which the College strengthened its academic excellence and competitiveness by tripling its percentage of incoming low-income students and more than doubling its percentage of domestic students of color. For this work, Porterfield and Franklin & Marshall received national recognition and visibility, including high-profile coverage in The Washington Post and The New York Times, on the PBS NewsHour, and at several White House summits of educational leaders. The Next Generation Initiative also helped to galvanize the creation of a national project of the Aspen Institute's College Excellence Program, the American Talent Initiative (ATI). Funded by Bloomberg Philanthropies, the ATI has a national goal of enrolling 50,000 more high-achieving low-income students in leading institutions by 2025.
Before assuming the presidency at Franklin & Marshall, Porterfield served as Senior Vice President for Strategic Development and as an award-winning professor of English at his alma mater, Georgetown University. In this role, he led Georgetown's institutional positioning, strategy formation, communications, government relations, community relations, and intercollegiate athletics. He also spearheaded the University's relationship with Washington, DC Public Schools and founded a number of Georgetown programs for immigrant children, DC students, and marginalized youth.
Prior to coming to Georgetown in 1997, Porterfield served for four years as communications director and chief speechwriter for the U.S. Secretary of Health and Human Services.
Porterfield has received awards and recognitions from the KIPP Foundation, the "I Have A Dream" Foundation, the Posse Foundation, and the Kaplan Educational Foundation. He serves on the National Board of Directors of Teach For America and on the board of the Education Trust, and is a former trustee of the College Board. He was named a White House Champion of Change in 2016 and was elected to the American Academy of Arts and Sciences in 2020.
Porterfield earned B.A. degrees from Georgetown and Oxford—where he was a Rhodes Scholar—and his Ph.D. from The City University of New York Graduate Center, where he was awarded a Mellon Fellowship in the Humanities and wrote his dissertation on the poetry of American prisoners. He has been awarded honorary degrees from Wake Forest University, Miami Dade College, Queens University of Charlotte, Elizabethtown College, and Mt. Aloysius College.
A native of the City of Baltimore, where he was raised by a single mother at the height of the civil rights movement, Porterfield and his wife, attorney Karen A. Herrling, live in Virginia and have three children.